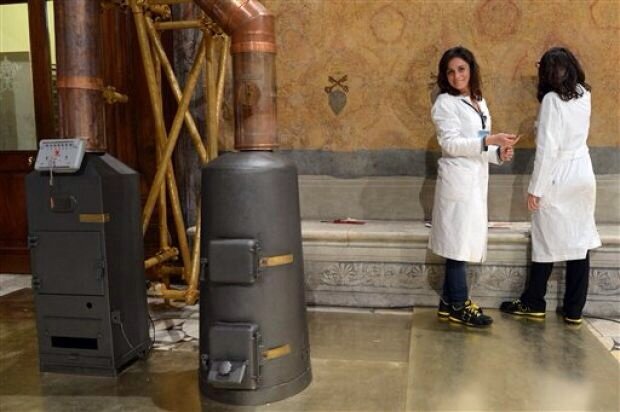 The chimney on the roof of the Sistine Chapel, which will emit the smoke to indicating the election (white smoke) or non-election (black smoke) of a pope, was installed on Saturday 9th March, three days before the Conclave began.
From within the Sistine Chapel we saw scaffolding around the stoves that will burn the ballots to erect the stove pipe that releases the smoke from the roof of the chapel.
After the chimney was installed it was submitted to a series of tests using chemicals to emit a yellow smoke so as not to confuse the increased number of passers-by in St. Peter's Square. The chimney is just the last piece of the mechanism that will produce the smoke. The two iron stoves it is attached to were installed yesterday. The first stove, cast in 1938, has the dates of the five Conclaves it has been used in etched upon it—from the one electing Pius XII in 1939 until the latest, in 2005, when Cardinal Ratzinger became Benedict XVI.
This older stove

(on right)

is used to burn the balloting papers. The modern one

(on left)

, equipped with an electronic device, will add the chemicals to produce the black or white smoke indicating the result of the voting until the election occurs. A mixture of vegetable-based chemicals that produces the white smoke, which tells the world that the cardinals have chosen a new pope. There are two voting sessions planned for each morning and each afternoon that the Conclave continues. At the moment, the chimney is at the centre of the media's curiosity and as of last night holds the attentions of millions of people around the world. Quite possibly the most watched chimney of all time.