Carbon monoxide is a highly poisonous gas that has no colour, taste or smell, making it impossible to detect without an alarm.
Carbon monoxide alarms must be audible – they make a loud noise if gas is present. We do not recommend the use of 'Black Spot' indicators as these are not as accurate and will not alert or wake you if there is carbon monoxide in your home.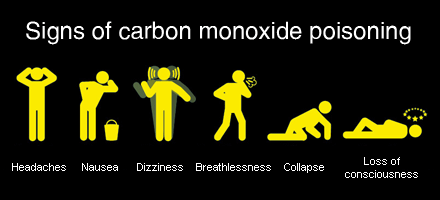 Where to buy a carbon monoxide alarm
Carbon monoxide alarms are available from £15. They can be bought at DIY stores and some supermarkets, or directly from energy suppliers.
When you buy a carbon monoxide alarm, make sure it meets current European safety standards. Look for alarms marked with the 'EN50291′ standard. This may be written as BSEN 50291 or EN50291 and with the 'CE' mark, both of which should be found on the packaging and product. Alarms will have either a Kitemark or Loss Prevention Certification Board (LPCB) logo to show independent testing and certification.
Where to put a carbon monoxide alarm
When placing and using an alarm in the home it is best to follow the instructions that were supplied with the alarm. If you can't find these then here are a few guidelines that will help you install your alarm in the home:
Follow alarm instructions and place alarms in rooms with fuel burning appliances such as boilers in kitchens and fires in the lounge
If you want to fix the alarm to a wall then position it at head height ( i.e. your breathing level), however the alarm does not need to be fixed on a wall (e.g. it can be placed on a table, shelf or bookcase)
If you have a portable battery alarm you could place this in the room that you spend most of your time such as a lounge or bedroom – you can even move it from room to room with you
As with smoke alarms, test your carbon monoxide alarm regularly with the test button (follow manufacturer's instructions) and replace the batteries annually or when the low battery signal sounds
Do not place the alarm in a cupboard, behind furniture, near an outside door or ventilation ( e.g. extractor fans or cooker hoods)
Do not place alarms directly next to fires, boilers, cookers or heaters – the alarm should be at least 1 meter away from any of these appliances
Do not place an alarm in an area of high condensation and steam such as a bathroom or kitchen or sources of steam and condensation
The alarm should not be placed on a ceiling like a smoke alarm
You should never ignore a carbon monoxide alarm. Check the manufacturer's instructions to make sure you can recognise the alarm sound emitted when carbon monoxide is present as well as the low battery signal to avoid any confusion. If the alarm sounds, call the relevant fuel advice line for help and seek medical advice urgently if anyone is feeling unwell.
If you are a tenant, carbon monoxide alarms may also be available to you from your landlord or local council.
If you are worried about the threat of carbon monoxide poisoning whilst on holiday in the UK or abroad, you may wish to take a battery-operated carbon monoxide alarm with you. Just take out the batteries whilst travelling. The same battery alarms can be used at home and on holiday.
Remember that carbon monoxide alarms must never be used in place of annual safety checks. They are a second line of defence. There is no alternative to proper installation and maintenance of your appliances.