A new fireplace is an exciting addition to any home. Whether you are buying a fireplace to enhance your decor, heating, or both, there are many options available from us here at Fireplaceworld.co.uk. From easy to use and install electric choices to clean and efficient gas fires, our fireplaces are available in attractive and varied styles that will add beauty and style to any room. Choose with care. Fireplaces can last for many years and often increase your home's value. Be sure to select a fireplace with the technology and performance you'll want long term.
Take advantage of our many years of experience to make what at first appears to be a difficult purchase a simple and enjoyable experience.
Considerations
Your key consideration will be whether to purchase an electric fireplace or stove, or gas fireplace. Make sure you choose the size and style that is right for your needs.
Style vs. Heating
In the past, it may have been necessary to choose between these two goals. Today electric and gas options provide both ambience and efficient heating. However, if you are on a budget, you might find that you need to be willing to prioritise a bit. For example, you may have to choose a less expensive mantle design in order to afford a large enough fireplace to heat your room properly.
Style and Appearance
There are as vast a range of fireplace styles as there are interior design styles, spanning from casual to more formal looks. Regardless of gas or electric, fireplaceworld.co.uk offers many choices. The material and style of the mantel or surround will play a major role in a fireplace's appearance; though keep in mind that you may need to purchase these separately. Whether you like clean lines or ornate details, rustic or contemporary styling, we can provide a beautiful fireplace that suits your taste.
Convenience
For both electric and gas fireplaces, with the flick of a switch or even a click of a remote control, you'll have your fire and heating source working in an instant. Fireplaceworld.co.uk are the UK's largest retailer of electric and gas fireplaces, offering the convenience of online shopping with home delivery, or the opportunity to visit our showroom to select and/or collect your purchase.
The Look of the Flame
The winner for a realistic flame is, of course, a real flame in a wood burning fireplace. Today however, through the use of updated technology, you too can experience a beautiful and realistic looking flame effect. Purchase one of our electric or gas fireplaces and benefit from a warm room and the good economy of saving on heating costs.
Size
Keep in mind that high ceilings, as well as square footage, will play a part in heating ability. Other factors include home insulation and the number of windows. Overall, the larger the room, the larger the fireplace needs to be to heat it well. Of course, if you are buying a replacement fireplace for an existing chimney area, this will determine the size needed.
General Quality Considerations
Our high quality fires and fireplaces include the following features: strong and solid construction, heavy duty faces, quality materials and CE-certification. In gas and electric fireplaces, realistic flames are another measure of sound workmanship and quality. Our fireplaces are designed to increase heating efficiency.
Installation and Maintenance – Safety First
Keep in mind that gas fireplaces are subject to rigorous safety codes and installation should be carried out by a gas safety registered installer. They also require regular maintenance in order to operate properly and safely. It is vital to have a gas fireplace installed and maintained by a qualified, licensed, and experienced professional. Electric fireplaces generally need no installation other than plugging them in.
Electric Suites
Electric Suites are complete, freestanding, electric units. They are the simplest type of fireplace to install. In fact, you could describe them as 'Plug and Play'!
All you need to do is place the electric suite in the correct location and plug it in. Nothing could be simpler. You just need a flat wall and a nearby plug socket. There is no need to inset the fire into the wall, so there is no mess or fuss. Ideal for anyone who wants a complete fireplace, with the minimum of effort, at an unbelievable price.
Most
Electric Fires and electric suites
have a 1kW and 2kW setting, but you can also have the flame effect or light on without any heat being emitted. This is ideal if you want to give the sense of warmth without actually using the electric fan heater.
Wall Mounted Electric Fires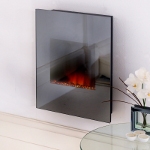 Ranges of
wall mounted electric fires
are designed to be installed up off the floor, wall mounted for maximum impact and maximum style for your home.
All our Electric Fires and electric suites have a 1kW and 2kW setting, but you can also have the flame effect or light on without any heat being emitted. This is ideal if you want to give the sense of warmth without actually using the electric fan heater.
Inset Electric Fires
All of our inset Electric Fires are extremely flexible. They are designed to be inset into a backpanel with the standard opening of 22" high by 16" wide, but can also be used as a freestanding unit.
Again, these electric fires are simply plugged into a mains electrical supply. This allows the fire to be fully freestanding, semi-inset or fully inset.
Most Electric Fires have a 1kW and 2kW setting, but you can also have the flame effect or light on without any heat being emitted. This is ideal if you want to give the sense of warmth without actually using the fan heater.
Living Flame Gas Fires
A Living flame gas fire is the staple of the fireplace industry. Being much cleaner than solid fuel, and giving out more heat than an electric fire, a gas fire is the optimal choice for most homeowners.
However, all gas fires available do not necessarily fit all types of flue system. Our gas fire guide will help you to understand what flue system you have in place at present, and which types of gas fire are suitable.
If you have no flue at all, don't worry! We have gas fires with catalytic technology, fan flue or power flue systems to accommodate any situation. They also come with a choice of trim and fret so you can give your living flame gas fire whichever appearance you prefer.
Limestone Fireplaces
Another popular line is
Limestone fireplaces range
, imported directly from Portugal or Turkey. The demand for these products is so high because of the natural beauty of limestone.
However, many do not understand that this is a natural product and so every piece of limestone is unique. Limestone is actually made at the bottom of ancient oceans, by the gradual layering of marine organisms on the seabed. As a result, natural limestone will contain fossils, coal seams and fault lines. This is part of the beauty of the product. There will never be an exact replica of your fireplace.
Please note that the sizes of each fireplace may vary due to manufacturing.
Solid Fuel Limestone Fireplaces
The solid fuel limestone fireplaces are not recommended for high usage with solid fuel. We only recommend occasional use.
Limestone is naturally porous and will age (discolour) and mark over time with the use of solid fuel. Please make sure you are happy with limestone as a solid fuel product before buying.