The government needs to focus on insulating homes before funding new heating technologies, according to a report by the Institute for Public Policy Research (IPPR).
It says the government's Renewable Heat Incentive (RHI) could cost taxpayers up to £860 million in the current spending review, but is unlikely to prove either "attractive" to or "cost-effective" for householders.
The Institute said the government is wrongly focusing on backing renewable heat technologies, which it says only "wealthier people" can currently afford to install.
The report '
Warmth in a changing climate: How should the government encourage households to use renewable heat?
' asked a series of focus groups about renewable heat. Many people said they were put off by the "high upfront costs" of installing new technologies.
The groups also said they were "sceptical" the new technologies would deliver enough heat at an acceptable price.
Andrew Pendleton, IPPR associate director, said the government's current approach is wrong. "Providing a feed-in tariff style for heat production rather than offering a package of measures aimed at providing warmth risks undermining consumer confidence in heat technology.
"A tariff-based incentive will also fail to address the high capital costs, identified as the key barrier in IPPR's consumer workshops."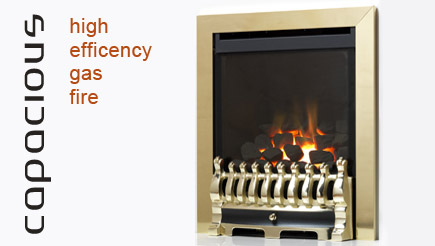 The report said that while cutting emissions from household heating is important, costs across the economy could be higher than anticipated and take-up may be low. It added that in some cases, technologies may simply not provide enough heat to meet consumers' expectations or to heat homes to a safe level.
While new gas fires are becoming more and more efficient with fires such as the
Apex Capacious
offer up to 89% fuel efficiency this would be useless if the house itself doesnt hold the heat. One of the quickest and cheapest ways to reduce heat loss is using by reducing drafts.A typical home loses 20% of its heat through draughty doors, windows and ventilation ducts. Fit draught proofing products to your doors, windows and keyholes. You can buy them from DIY stores but check that they comply with standard BS7386 for maximum efficiency and durability.
Insulating your loft is also one of the most cost effective ways to reduce your heating bills and you can do-it-yourself. By laying down loft insulation to the recommended thickness of 270mm you could knock up to £200 off your annual heating bill. Make sure you use protective gloves and goggles if you install the insulation yourself.