Europa Fireplaces have recently unveiled a range of natural Limestone fireplaces, you can find the whole range
here
.
But for this article we've decided to focus on just one. The Europa Westerby.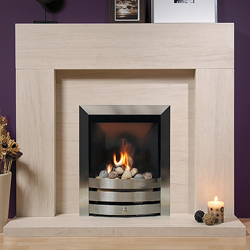 The Europa Westerby, unlike many other limestone surrounds does not get caught up in trying to be ornate or adding unnessesary detail. It focuses on doing main purpose correctly, housing a fire. But this utilitarian approach does not mean you're stuck with an ugly fireplace, quite the contrary in my opinion. The clean vertical lines of the legs of the surround and strong line across the top of the fireplace adds horizontal definition and creates a very simple, yet very effective fireplace surround.
Subtle, functional detailing such as where the header meets the legs and the joins in the three-piece back panel mean that the fireplace is not strikingly modernist. Combined with the choice of material, natural limestone means the clean lines, broken up with the natural mineral deposits, inclusions and fossils that limestone fireplaces all include mean the Europa Westerby offers an incredible feeling of quality while also being functional.
The Europa Westerby is now available for all Europa Fireplace dealers.
Find your local dealer at
http://www.europafireplaces.co.uk/