Nexis fi re surrounds are manufactured from a mixture of 65% real stone or marble blended with resin

.

T

his means that unlike natural stone materials, you can be sure that the finish shown is the finish you will

receive

. We take a look at some of the latest fireplace surrounds from Nexis and the

options available.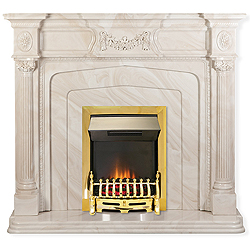 The first surround we take a look at is the Nexis Ashby, this traditionally styled fireplace surround is finished in a stunning Onyx marble effect to give a stunning finish with

intricate

detailing,

reminiscent

of significantly more upmarket fireplaces.
The top shelf width of 56inch provides the perfect presence in the room without being

dominating, while the stepped hearth and back panel

are subtle

details, not normally seen on a fireplace.
Suitable for electric fires only, the Nexis Ashby is a stunning addition

to any traditional living space.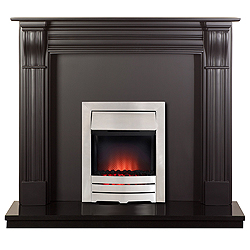 Next in the range is the Nexis Cawdor fireplace surround. Unlike the Ashby, the Cawdor is available in a choice of colours, available either in a striking black finish or grey vein finish, the Nexis Cawdor features clean vertical and horizontal lines with simply designed corbels that mean this fire surround would make the perfect focal poi

nt in most living spaces, traditional or contemporary.
The Cawdor has a top shelf of 54inch and the choice of 30mm or 75mm to

accommodate

most electric fires.