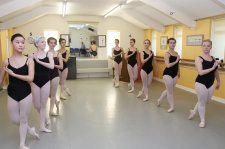 DRU heaters in Dorothy Stevens ballet school
The Dorothy Stevens Ballet and Theatre School in Lightcliffe, Near Halifax, West Yorkshire is one of the UK's most famous dance academies. Run continuously for over 50 years by the indefatigable Dorothy Stevens, it has trained thousands of aspiring dancers and theatre performers, many of whom have gone on to great success with ballet, modern dance and theatre productions all over the world.
The school building was recently in need of a new heating system. After consultation with DRU, Miss Stevens and her team selected
Art series gas wall heaters
for the dance studio. Art heaters have a balanced flue system, which allows them to be run independently or as part of a thermostatically-controlled heating network. They draw air for combustion from outside the building and provide quiet, efficient and comfortable heating, using natural gas or LPG.
The
DRU Art heating system
provides greater flexibility to churches, schools, offices and other public buildings. They only need to be turned on when the building is in use, unlike a more expensive central heating system. They also require no electrical supply, making them ideally suited to portable, temporary or rural locations.
DRU supplies commercial and domestic heating solutions in all parts of the UK, using a national network of DRU approved, Gas Safe registered installers