How do you judge good design? The guys at Brilliant believe good design may be individual, elegant or understated but it should always be original and timeless. A good design is one that is endorsed by the customers and recognised by the industry as something special.
Now well into their third decade, Brilliant have become synonymous with unique designs, manufacturing quality and unqestionable product safety. All of our products are rigourously tested and CE certified.
To complement their already successful traditional gas fires, Brilliant created an extensive range of contemporary products that re-interpret the domestic fireplace, resulting in stunningly modern, yet classical style. These producsts have laid the foundations for a new genre of fireplace and opened up the market for other manufacturers to potentially follow...
Based in a snazzy, state-of-the-art factory, they continually strive to improve their products and concieve new and exciting additions to the range.
The Slab Range
The slab concept originated from a single fireplace, the Slab 30, launched in 2000, it was an instant success, a result of its truly innovative nature and refreshing aesthetic. The Slab was the first of its kind to introduce ceramic pebbles, now a must have in the fireplace industry, the first to arrange the fuel effect on a horizontal bed and the first true "suite" incorporating both fire and surround into one.
Since then the Slab range has evolved and expanding, moving on from just the Slab 30, Brilliant have released the smaller Slab 22 and Slab 16 models as well as a slim version of the Slab 16 for those without sufficient depth. Combined with the use of Corian (R) adds the flexibility for the fire to fit comfortably in almost any style of decor.
The Ledge Range
Another one of the flagship items from Brilliant is the Ledge range. This contemporary hole-in-the-wall style gas fire features horizontal detailing in the Corian (R) fascia that highlights the landscape finish as well as boasting the huge range of colour options and fuel effects that make this fire truly unique in the market.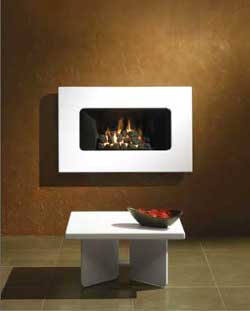 The Brilliant Newdawn
Moving on from the successes of the Ledge and Slab ranges, Brilliant released the Newdawn range of gas and electric fires. Featuring a range of fuel effects for the gas version and either contemporary pebbles or ultra-realistic logs for the electric fire. The Newdawn fascia, finished in over 100 different Corian (R) colours is available in a contemporary finish with single-piece contruction with curved edges to give that very contemporary feel, while also being available in "Style-B" with square edges and the look of a four-piece construction. The LED flame effect for the Brilliant NewDawn is micro-chip controlled and gives that added realism that just cannot be found on a standard ribbon-flame effect fire.